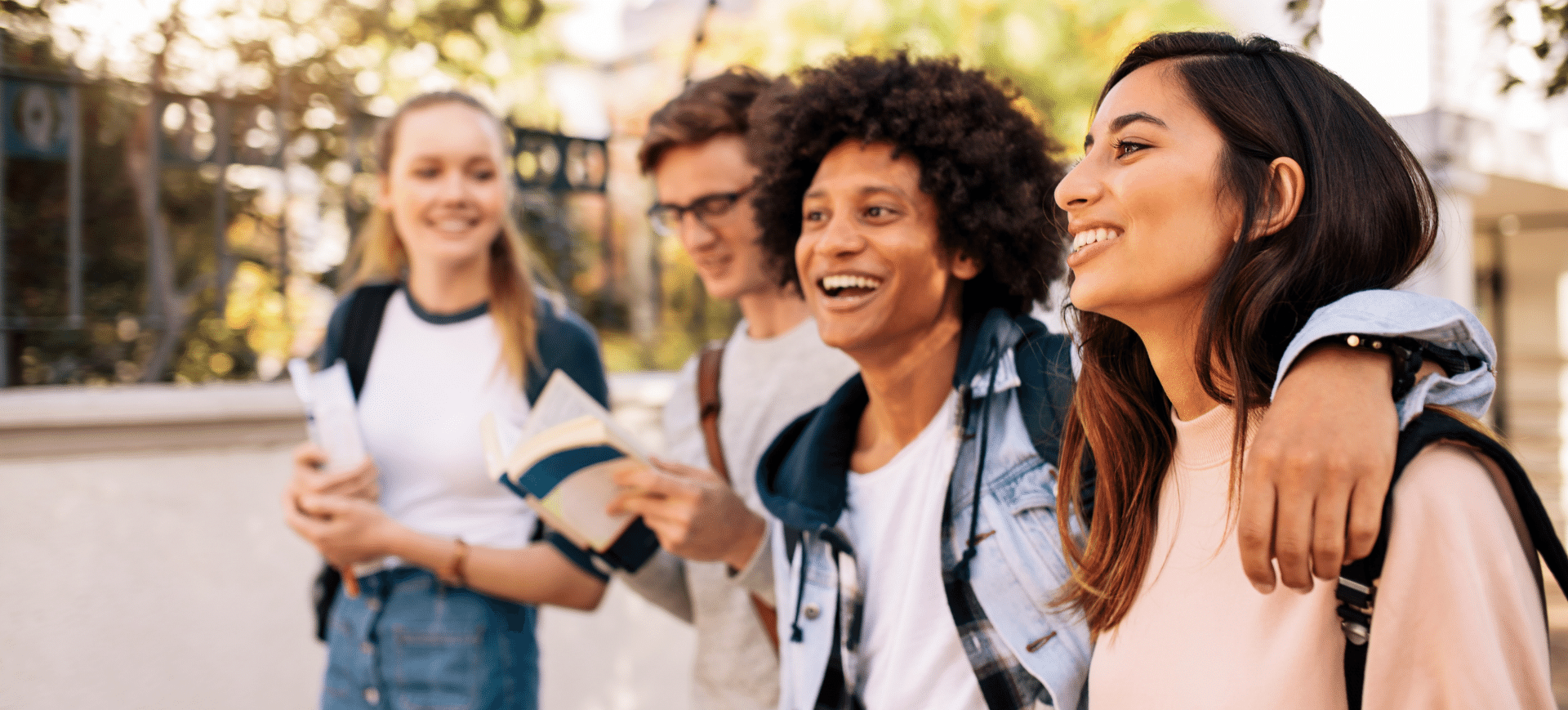 Why Your Company Should Integrate GenZ Marketing & University Recruiting Efforts in 2021
By Natalie Nygren
In today's digital world, efficiency and meaningful impact matter, especially in business strategies relating to marketing and recruiting, and especially when it comes to GenZ. Imagine the potential success and efficiency for a company if important marketing and recruiting goals start to overlap more often in the same interactions with college students. After all, teamwork makes the dream work.
With this potential in mind, we're here to share why your company should consider launching an integrated marketing and recruiting program to drive brand and hiring goals this year.
What Does an Integrated Program Look Like?
The exact structure and execution of an integrated program like this will greatly depend on the brand and its needs in both spaces, but it can be rooted in research, digital reach, experiential, or a combination of a few different programs. One of our favorite ways to execute an integrated program is by utilizing student ambassadors to share important messaging, drive sales, and build brand awareness and loyalty. 
Integrated programs present an opportunity for a company to bring together their marketing and campus recruiting teams, designing a program together that meets all the goals of the company and brand, from lead generation to applicants to brand impressions to sales. After goals are outlined and targets are set, student ambassadors are recruited and hired to join the program and start tackling those goals through program tasks and objectives. 
Based on the Student Ambassador programs we run for our partners, here are just a few of the things that could be implemented into an integrated program, allowing ambassadors to help both marketing and recruiting accomplish their respective and mutual goals: 
For the Marketers
Social media posts to create awareness and share important brand messages
Marketing lead generation through giveaways, sweepstakes, or sign-ups
In-Person and digital events to drive more engagement with students 
Research surveys to learn more about your target audience
Sampling to introduce students to your products on-the-spot
Focus groups to dive even deeper into feedback on branding, ad creative, or CSR initiatives
For the Recruiters
Connections and engagement with on-campus clubs to build relationships and expand reach to potential candidates
Invitations distributed to students and clubs for webinars or info sessions hosted by the recruiting team
Research surveys to learn more about the target demographic, what students want from a job or internship, and what recruiting messages they care about
Social media and general communication with the campus community about job opportunities, company benefits, and DEI initiatives
Partnerships with professors and departments within your target disciplines to build relationships 
In-person and digital events to introduce students to recruiters and other employees or ERG members
Why Integrate? 
Traditionally, Student Ambassador programs have been used to help brands that sell physical products, and it's a fairly new concept to use ambassadors to help you with on-the-ground recruiting for your candidate funnel. But there's actually a lot of reasons why an integrated program like this makes sense and will provide immense value to your company: 
 1. Take Advantage of Investment Synergy (aka Sharing Costs + Budgets) 
When marketing and recruiting work together, there are plenty of opportunities to split the budget and share costs that would otherwise be significant for just one department or the other. We can combine expenses like recruiting costs, incentives, and ambassador pay between two departments instead of one, making it a more cost-effective program.
2. Round Out Your Company/Brand Image with GenZ
These days, students care about more than just what products you sell and what student discounts you offer. They want to know that a company they purchase from is making a positive impact on the world, the environment, and society. 
In a recent research study we conducted, 99% of students said they want a company they support or work for to support a cause, with equality and the environment as the most popular #1 choices. 
Utilizing ambassadors to share these important messages while driving leads and sales is incredibly beneficial to creating brand loyalty long term.
3. Peer to Peer Influence Simply Can't Be Beat
Did you know that 68% of 18-to-34-year-olds agree that their peers' social posts are 'somewhat likely' (or better) to influence them into making a purchase (Adweek, 2018)? It's pretty clear that peers have a lot of influence in their networks, probably due to their authenticity and trustworthiness. Brands can leverage that influence to share important messaging, drive sales, or encourage other actions from consumers.
4. Grow Your Reach Exponentially By Leveraging Networks of Students 
The amount of Gen Zers that you, as a company, can reach by yourself may already be impressive, but what if you hired a student to do that marketing for you and share those messages with new consumers in a more authentic way? What if that same student could connect your recruiters to relevant student clubs with 20, 30, 50 members (and sometimes more)? Your reach to the audience could grow exponentially using this program structure.
5. Ambassadors Themselves Make Great Interns and Full-Time Hires
If you're spending the time to educate, train, and build a relationship with your ambassadors, these students may end up being the perfect candidates themselves for internships or full-time jobs after the program is over. 
Students can use these programs to learn more about the company and become knowledgeable brand advocates, and if they match your target demographic and discipline, you will have one less step in the hiring process, as these students are already vetted by your teams and are passionate about the company.
—
Still not sold on this big idea? We understand. It's a big deal to break down silos and execute a new and innovative program while working with various business units, but we're here to help and answer your questions! Our ambassador programs are run by previous ambassadors and experiential experts, and we'd love to share our insights to help you build the ideal program for your company and brand. 
Reach out to our Door of Clubs Customer Success Lead at natalie@newbridgemg.com or fill out our contact form to start a conversation.